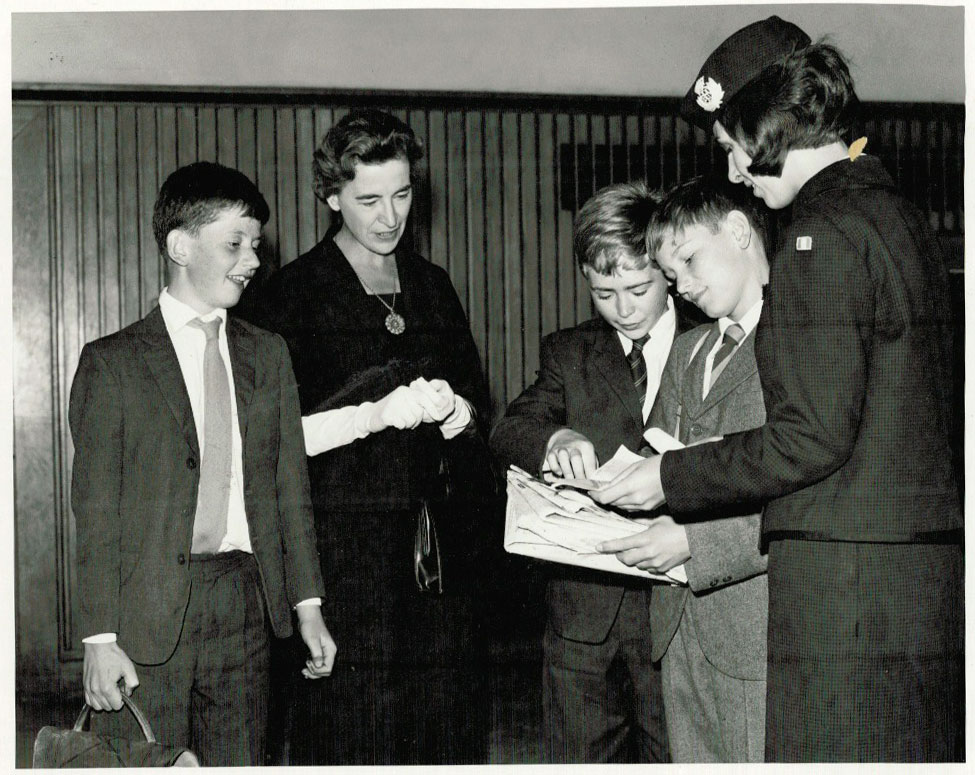 Universal Aunts Ltd. respects your privacy and is committed to protecting your personal data. This privacy policy will inform you as to how we look after your personal data, and tell you about your privacy rights and how the law protects you.
We have been supplying Universal Aunts to people in their own homes since 1921; we operate as an introductory agency. We process personal data (including sensitive personal data) so that we can provide the above service and in doing so we act as a Data Controller and Data Processor.
As a client or Universal Aunt you may give us your personal data directly, such as over the telephone, by completing a registration form or when you visit our website. We need to process your personal data to be able to provide you with the best and most suitable Universal Aunts for your needs, and we confirm your personal data will only be used in accordance with the terms set out below.
Summary
1.1. We generally receive personal data relating to you directly from you. For example, we will receive that data if you contact us through our website or otherwise, if you are a client of ours, or a Universal Aunt registered with us.
1.2. Personal data may occasionally be provided to us by third parties with whom each of you and us have a separate relationship.
1.3. We use your data to provide our services to you, correspond with you, improve our site, keep appropriate records and meet our legal obligations.
1.4. We only provide your personal data to third parties for our limited business purposes or as permitted by law. We don't share your data with third party advertisers.
1.5. We store data for specified periods for our limited business purposes.
1.6. You have certain rights, prescribed by law, in relation to the processing of your data, such as rights to request access, rectification or deletion of your personal data.
1.7. You can contact us to enquire about any of the contents of this Notice.
Personal data we obtain from you
2.1. If you are an applicant or prospective Universal Aunt, we may collect and use the following types of personal data about you:
2.1.1. recruitment information such as application form and CV, references, qualifications and membership of any professional bodies and details of any pre-employment assessments; contact details and date of birth;
2.1.2. your gender;
2.1.3. your marital status and family details;
2.1.4. information in relation to your tax status including your UTR number;
2.1.5. identification documents including passport and driving licence and information in relation to your immigration status and/or right to work, plus results of DBS checks;
2.1.6. training records;
2.1.7. any other category of personal data of which we may notify you from time to time.
2.2. If you are a client or prospective client (or a third party seeking services for an individual), we may collect and use the following types of personal information about you (or about the person for whom you are seeking the services):
2.2.1. Contact details and date of birth;
2.2.2. Contact details for emergency contacts;
2.2.3. Gender;
2.2.4. details of needs for the individual client (for example a summary of health conditions, sufficient to enable an introduction to an appropriate Universal Aunt).
2.3. If you access our Site we may process data about your use of our website (usage data). This may include your geographical location, browser type and version, operating system, referral source, length of visit, page views and website navigation paths, as well as information about the timing, frequency and pattern of your use. This data is obtained through Google Analytics and will be aggregated and anonymised in such a way that it contains no information pertaining to any identifiable individual at all – as such it is not actually personal data but we address it in this Notice for completeness's sake. We process usage data for the purpose of improving our Site.
Our legal basis of processing
3.1. We will process personal data only on lawful bases. In particular, we will process personal data on the following lawful bases identified in Article 6 GDPR:
3.1.1. for the performance of a contract with you, or to take steps at your request prior to entering into a contract with you;
3.1.2. for our legitimate interests;
3.1.3. with your express consent;
3.1.4. in the case of special category data, for the purposes of the assessment of the working capacity of an individual or the provision of health or social care;
3.1.5. in the case of information regarding criminal convictions, for the purposes of the assessment of the working capacity of an individual.
3.2. We may also process any of your personal data where such processing is necessary for compliance with a legal obligation to which we are subject or in order to protect your vital interests or the vital interests of another individual.
Providing your personal data to others
4.1. We may disclose personal data to the relevant parties in connection with the uses described above.
Data security
5.1. We have put in place appropriate security measures to prevent your personal data from being accidentally lost, used or accessed in an unauthorised way, altered or disclosed.
5.2. We have put in place procedures to deal with any suspected personal data breach and will notify you and any applicable regulator of a breach where we are legally required to do so.
Retaining and deleting personal data
6.1. Personal data that we process for any purposes shall not be kept for longer than is necessary for those purposes.
6.2. We will retain and delete your personal data as follows:
6.2.1. We will store private client's information for 36 months after the service ends. If we receive correspondence from the client or a third party seeking further services for the client, then the retention period will re-commence.
6.2.2. We will keep Universal Aunts /applicant information for 36 months from submission. If we receive correspondence from the Universal Aunts/applicant within 36 months, then the retention period will re-commence.
Amendments
7.1. We may update this Notice from time to time by notification to you, or by publishing a new version on the Site.
Your rights
8.1. We have summarized below the rights that you have under data protection law. Some of the rights are complex, and not all of the details have been included in our summaries. You can read guidance from the Information Commissioner's Office at www.ico.org.uk for a fuller explanation of your rights.
8.2. Your main rights under data protection law are:
8.2.1. the right to access;
8.2.2. the right to rectification;
8.2.3. the right to erasure;
8.2.4. the right to restrict processing;
8.2.5. the right to object to processing;
8.2.6. the right to data portability;
8.2.7. the right to complain to a supervisory authority.
8.3. You have the right to confirmation of whether we process your personal data and, where we do, to have access to the personal data, together with certain additional information. That additional information includes details of the purposes of the processing, the categories of personal data concerned and the recipients of the personal data. Providing the rights and freedoms of others are not affected, we will supply to you a copy of your personal data. The first copy will be provided free of charge, but additional copies may be subject to a reasonable fee.
8.4. You have the right to have any inaccurate personal data about you rectified and, taking into account the purposes of the processing, to have any incomplete personal data about you completed.
8.5. You may exercise any of your rights in relation to your personal data by written notice to us.
Our details
9.1. You can contact us by email at aunts@universalaunts.co.uk or in writing to PO Box 70056, London SE15 9DY.